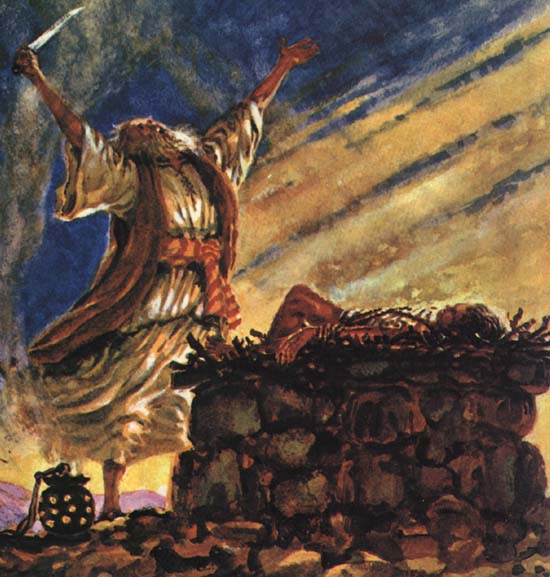 By Mister Curie
In the story of the Abrahamic trial, the great Patriarch Abraham is commanded to sacrifice his covenant son, Isaac, the one through whom God has promised that he will be blessed with posterity as the sands of the sea. According to LDS theology, this was doubly difficult because Abraham himself had nearly been sacrificed by his idolatrous father. But Abraham was obedient to the Lord and went forth to sacrifice his son. Once God was satisfied that Abraham would be fully obedient, he released Abraham from the command and blessed him.
The LDS church teaches that we must all face an Abrahamic trial to be worthy of exhaltation. Modern scriptures teach "Therefore, they must needs be chastened and tried, even as Abraham, who was commanded to offer up his only son. For all those who will not endure chastening, but deny me, cannot be sanctified" (D&C 101:4-5). According to John Taylor, Joseph Smith taught that "You will have all kinds of trials to pass through. And it is quite as necessary for you to be tried as it was for Abraham and other men of God, and (said he) God will feel after you, and He will take hold of you and wrench your very heart strings, and if you cannot stand it you will not be fit for an inheritance in the Celestial Kingdom of God" (Journal of Discourses, 24:197).
Could homosexuality be such an Abrahamic trial?
Could it be as George Q. Cannon asked, "Will you be true and loyal to God with the curtain drawn between you and Him, shut out from His presence, and in the midst of darkness and temptation, with Satan and his invisible hosts all around you, bringing all manner of evil influences to bear upon you? The men and the women that will be loyal under these circumstances God will exalt, because it will be the highest test to which they can be subjected" (Gospel Truth, 1:7)? And could it be as Ezra Taft Benson said, "The prophet is not limited by men's reasoning. There will be times when you will have to choose between the revelations of God and the reasoning of men--between the prophet and the politician or professor. Said the Prophet Joseph Smith, "Whatever God requires is right, no matter what it is, although we may not see the reason thereof until long after the events transpire" (Teachings of Ezra Taft Benson, p.134)?
I have a lot of problems with this interpretation of the Abrahamic trial and how it applies to homosexuality. I do not think homosexuality should be viewed as a trial of this life, that will be taken away from us in the Resurrection if we are faithful to the LDS church leaders and remain celibate or marry women, or otherwise we will be resurrected without genitalia.
I like Karen Armstrong's interpretation of the Abraham and Isaac story in her book, "The Case for God". She wrote (page 35-36):
The God he has served so long had turned out to be a heartless slayer of children, who was also cynically breaking his promise to make him the father of a great nation. . . . The Genesis narratives show how difficult it is to see or understand the divine as we struggle with life's cruel dilemmas.
There is no clear, consistent image of God in Genesis. In the famous first chapter, the Creator God appears center stage, with no rival, supremely powerful and benign, blessing all the things that he has made. But the rest of Genesis seems to deconstruct this tidy theology. The God who was supremely powerful in chapter 1 has lost control of his creation within two chapters; the utterly fair and equitable God who blessed everything impartially is later guilty of blatant favoritism, and his somewhat arbitrary choices (the chosen ones are rarely paragons) set human beings murderously against each other. At the time of the Flood, the benign creator becomes the cruel destroyer. . . Genesis shows that our glimpses of what we call "God" can be as partial, terrible, ambiguous, and paradoxical as the world we live in. As Abraham's plight on Mount Moriyya shows, it is not easy to "see" what God is, and there are no simple answers to life's perplexities.
I like Karen Armstrong's interpretation of the Abrahamic trial. For Armstrong, the Abrahamic trial is a story about struggling with life's perplexities. Such an interpretation does represent a trial that all mankind must go through, but getting through such a trial is not achieved by blindly placing faith in other men who claim to know God's will better than the rest of us.